THE WALL STREET JOURNAL: Shell Names Nokia's Ollila As Nonexecutive Chairman In Move Toward Overhaul: Friday 5 August 2005
By MICHAEL WILLIAMS, DAVID PRINGLE and BENOÎT FAUCON
Staff Reporters of THE WALL STREET JOURNAL
August 5, 2005; Page A3
Moving ahead with its ambitious revamp, Royal Dutch Shell PLC is turning to an outsider -- departing Nokia Corp. Chief Executive Jorma Ollila -- as its next nonexecutive chairman.
Shell's appointment of the 54-year-old Mr. Ollila follows the announcement earlier this week that he is stepping down as CEO of Nokia, effective in June, upon the expiration of his contract. At Shell, Mr. Ollila will succeed Aad Jacobs upon his scheduled retirement June 1.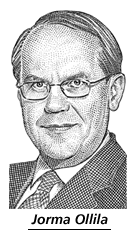 Mr. Ollila, who in his 13-year tenure as CEO turned Nokia from an old-line conglomerate into a world leader in cellphones, will have a very different challenge at Shell. Instead of pioneering a new high-tech industry, he will have to oversee the turnaround of a far larger company than Nokia -- one which, while enormously profitable amid today's oil-price boom, is trying to shake off an energy-reserves accounting scandal that embroiled the company last year and led to the departure of a slew of top executives.
Shell, the world's third-largest publicly traded oil company by market capitalization after Exxon Mobil Corp. and BP PLC, is also grappling with the underlying problem that led to the exaggeration of its reserves: lagging performance at its exploration-and-production division. The appointment is Shell's latest response to calls by investors for the century-old oil company to modernize both its unwieldy structure and insular corporate culture.
As nonexecutive chairman of Shell, Mr. Ollila's role will be supervisory. Shell's chief executive, Jeroen van der Veer, will continue running Shell's operations. Mr. van der Veer has put in motion a number of sweeping changes at Shell since he assumed the CEO job early last year. Mr. Ollila's priority will probably be to ensure the pace and effectiveness of Mr. van der Veer's changes. The personable Mr. Ollila, who speaks fluent English, may also be called on to serve as a fresh public face.
In announcing Mr. Olilla's appointment, Shell's board highlighted the infusion of fresh blood. "We were looking world-wide for a chairman with international standing, a global outlook, and proven success in managing a complex organization," said Lord Kerr of Kinlochard, Shell's deputy chairman, who led the job-search committee. "In Jorma Ollila we found all these qualities, and more."
Shell spokeswoman Bianca Ruakere said the search started immediately after plans for Mr. Jacobs's departure were announced Oct. 28. She said the recruitment process had first been led by Shell Deputy Chairman John Kerr before headhunters Egon Zehnder International were hired in December. Mr. Ollila said earlier this week that he told the Nokia board in January that he wanted to step down as CEO in 2006 so he could pursue other interests. He will stay on at Nokia as nonexecutive chairman for a limited but unspecified number of years, he said. A Nokia spokeswoman said Mr. Ollila wasn't available for interview yesterday. In a statement, Mr. Ollila said: "This is a wonderful opportunity with a great global company at a pivotal time for the energy industry."
Bruce Evers, analyst at Investec Henderson Crosthwaite, called Mr. Ollila's appointment an "extremely sensible move." Mr. Evers said he didn't see any problems with Mr. Ollila's lack of experience in the oil industry. Royal Dutch Shell's American depositary shares were down 33 cents, or 0.5%, to $63.19 at 4 p.m. yesterday in New York Stock Exchange composite trading, and in London yesterday, the company's "B" shares fell 13 pence (23 cents) to £18.51.
Write to Michael Williams at michael.williams@wsj.com, David Pringle at david.pringle@wsj.com and Benoît Faucon at benoit.faucon@dowjones.com